The 2021 Subaru Love Promise Customer and Community Commitment Award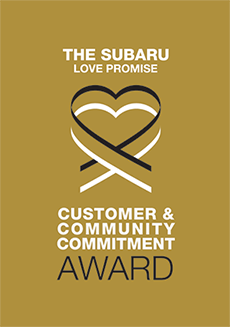 We've been nationally recognized for our dedication to our customers, our community, and the Subaru Love Promise.
We're honored to receive the 2021 Subaru Love Promise Customer and Community Commitment Award. This award nationally recognizes elite Subaru retailers who provide an exceptional customer experience at every interaction with Subaru. These retailers have also demonstrated an outstanding commitment to supporting passions and causes in their local communities in important areas such as the environment, community, health, education, and pets.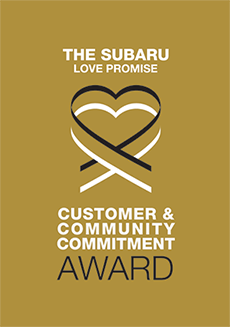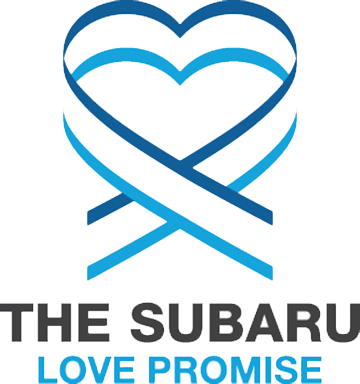 What is the Subaru Love Promise?
Subaru and our retailers believe in making the world a better place and the Subaru Love Promise is our vision of respecting all people. This is our commitment to show love and respect to our customers and to work to make a positive impact in the world.
How is Faulkner Subaru Harrisburg dedicated locally to the Love Promise?
Our Love Promise can be seen in various partnerships with local charities and non-profits. We're grateful for the opportunity, not only to be a part of our community, but to serve it as well.
Castaway Critters, Humane Society of the Harrisburg Area, Speranza Animal Rescue
Capital Area Greenbelt, Love the Hill, TerraCycle Recycling Program
Central PA Friends of Jazz, Dauphin County Vo-Tech, Foose Elementary School, Harrisburg Symphony Orchestra, LOOP Boyz & Girlz, Milton Hershey School, River City Big Band, Susquehanna Art Museum
CATRA, Cocoa Packs, Diakon Youth Services, Graceful Acres, Paxton Ministries, The Middletown Home
K9 Hero Haven, Leukemia & Lyphoma Society, PA Breast Cancer Coalition, The Kidney Foundation
Love Promise Stories from Faulkner Subaru Harrisburg
Subaru and Faulkner Subaru Harrisburg believe in making a positive impact on the communities in which we live and work. We uphold that belief through our Love Promise Community Commitment. Every month, we select inspiring stories from customers and partners from around our area who strive to support our collective commitment and feature them here
Faulkner Subaru Drives Out Breast Cancer - Daniele Y
The PA Breast Cancer Coalition (PBCC) is proud to 'drive out' breast cancer with Faulkner Subaru. As a state-wide nonprofit, we cannot thank Faulkner Subaru enough for their ongoing dedication to our mission of finding a cure for breast cancer. Their enthusiastic participation in the Drive Out Breast Cancer program and impactful donation from their Golf Challenge have made a significant difference in the lives of Pennsylvania breast cancer survivors. The current statistic is that 37 women in Pennsylvania will be diagnosed with breast cancer today. It's because of the generosity of our Grassroots Partners, like Faulkner Subaru, that we are able to fund breast cancer research, pass life-saving legislation, send free care packages to newly diagnosed women and provide free patient advocacy services in Pennsylvania. Faulkner Subaru has helped the PBCC walk beside women as they navigate their breast cancer diagnosis, offering resources, education and hope. "Our sincerest thanks to the staff of Faulkner Subaru for your support of our mission - you truly are a driving force in the fight against breast cancer," said PBCC President and Founder Pat Halpin-Murphy. "We are grateful for the work that you do and the impact you have made on the lives of breast cancer survivors in Pennsylvania. Thank you, Faulkner!" Thank you, Faulkner Subaru, for driving us towards our goal of finding a cure for breast cancer now… so our daughters don't have to. We look forward to continuing this partnership in 2022 and beyond.
---
Fur Ball Fun For Everyone! - Amanda B
Faulkner Subaru Harrisburg has been an invaluable partner to the Humane Society of Harrisburg Area for over 10 years! One of the many ways they support our organization is by sponsoring and attending our largest fundraiser of the year, the Fur Ball Gala & Auction. In addition, Faulkner Subaru provides the coolest "new adopter" kits to give out at the Shelter – and our customers LOVE them. These are only two of the many ways Faulkner Subaru has supported us over the years. Without community partners like them, we would not be able to do what we do. THANK YOU, Faulkner Subaru!
---
Charity Golf Season scores a BIG Payday! - Chris C
Congratulations to our 2021 Charity Golf Season winners! First Prize - $2,500 - PA Breast Cancer Coalition, Second Prize - $1,500 - Capital Area Greenbelt Association and Third Prize $1,000 to Graceful Acres! For 2021, Faulkner Subaru Harrisburg wanted to find a way to combine our charitable efforts with some of the avid golfers at the dealership. 9 players including; Richard Scott, Mitch Gluntz, Brian Lee, David Gaiteri, Kyle Volk, Jared Judson, Brian Kim, Zach Shatto and Leo Landaeta made up three teams that each selected one of our community partners to be the charity that they would support. The season began in April and ended in October consisting of three scrambles played at three different golf courses. Each player also played 4 additional rounds of golf for a total of 84 rounds of golf! At the end of the season, the team scores were calculated by the total of the players individual scores and the results of the team scrambles to determine 1st, 2nd and 3rd place. In the end, it was a great team building exercise that helped raise the awareness of three fantastic charities who were ultimately the WINNERS!
---
Giving confidence and joy one child at a time - Ben N
CATRA-thon is our largest fundraiser of the year for our non-profit organization. Since 1985, CATRA (Capital Area Therapeutic Riding Association) has offered an opportunity for Capital Area residents from all generations with all types of special and typical needs to establish an atmosphere of support, respect, and health. We do it all with volunteers and support from our community. CATRA-thon is a day when riders, family, volunteers, and friends come together to have fun while supporting the Capital Area Therapeutic Riding Association. Faulkner Subaru has been supporting us for the past 4 years and it all started when one of our volunteers at CATRA, Mark Dietrich, bought a new Subaru Crosstrek. While Mark was in the showroom he noticed banners with information from all of the charities and non-profit organizations that were displayed throughout the dealership. Following a conversation that Mark had with Doug Jones, the General Manager at Faulkner Subaru, Doug came to visit our horse farm. Since Doug's visit to CATRA, Faulkner Subaru now supports us not only with fundraising, but their dealership staff also volunteers at our facility. The employees at Faulkner Subaru truly care about their community and those who live in it, we love when they come to help! Faulkner Subaru's $5,000.00 donation to CATRA-thon and the help and support that they give us all year long made this year's CATRA-thon a huge success. CATRA continues to help our community, whether it's a special needs child or a veteran with PTSD through therapeutic horseback riding, we couldn't do this without Faulkner Subaru's help and support, thank you Faulkner Subaru for your dedication to helping your local community and helping us to make a difference in the lives of others.
---
Customer Cleans Up the Capital Area Greenbelt - Chris C
Faulkner Subaru Harrisburg has THE BEST CUSTOMERS! Today, Our customer Diane (an avid cyclist and all around good person) was in to have her Subaru Crosstrek serviced. These are her words..."I took my Subaru Crosstrek into Faulkner today for an oil change and tire rotation. It was so beautiful I decided to clean up the portion of the trail that Faulkner Subaru sponsors on the Greenbelt. They provided me with gloves ,a mask and a plastic garbage bag. I walked to the Five Senses Gardens and returned with a bag full of trash including bottles, wrappers, plastic bags, and miscellaneous litter. I saw Cindy at the gardens doing her wonderful volunteer work. We had a quick chat and back to the kind folks at Faulkner Subaru."We appreciate having Diane as a customer and we can't thank her enough for helping us to take care of the special places that are close to all of us like the Capital Area Greenbelt. Thank you Diane!
---
2021 Wish Upon A Food Truck Festival - Emily R
2021 is the second year that Faulkner Subaru Harrisburg was one of our tops sponsors for our Wish Upon a Food Truck Festival. This festival directly benefits our local chapter of Make-A-Wish: Philadelphia, Delaware, & Susquehanna Valley. Make-A-Wish helps to grant wishes for children who have critical illnesses. The average wish granted costs over $10,000, and our local chapter grants 250-350 wishes each year. It's amazing to know that we can count on our local community partners like Faulkner Subaru Harrisburg to help us really make a difference. In addition to being a sponsor, their staff attends the festival & engages with participants with enthusiasm & fun activities - like coloring a car! Our goal this year was to raise $30,000 so we could fund 3 local wishes & with the help of Faulkner we were able to exceed that goal raising over $32,000! Doug and Chris help so many amazing organizations, & we love having them as one of our top partnerships. They are making a true impact in the community and changing kids' lives.
---
Subaru Ambassadors CRUISE FOR FOOSE - Chris C
Faulkner Subaru hosted their first Boxerfest Premeet and Cruise in 2017 with the help of Subaru Ambassador Myra Menzer. The idea was that we would invite Subaru enthusiasts that were planning to attend Boxerfest (a large Subaru Enthusiasts event) to meet at the dealership where everyone would cruise together to the main event. To our surprise, we had about 70 cars with a total of about 130 people. We repeated the event in 2018 with a slightly larger turnout. We were thrilled with the enthusiasm of everyone that attended the events! In 2019, working with Myra and a few more Subaru Ambassadors, we decided to use the premeet and cruise event to support Foose Elementary School in Harrisburg as part of the Subaru Loves Learning initiative and we renamed the event CRUISE FOR FOOSE. The school Principal, Will Hicks suggested that we collect small stuffed animals that are a popular prize for students when they are recognized for special achievements. At the 2019 CRUISE FOR FOOSE we had about 85 cars and 140 attendees and collected over 200 stuffed animals. Everyone that brought a donation for Foose received a Faulkner Subaru Harrisburg swag bag that included a CRUISE FOR FOOSE t-shirt and other cool stuff. When we delivered the stuffed animals to Foose Elementary, Will Hicks, his teachers, staff and students were thrilled with the stuffed animals collected! Seeing everyone's excitement, the Subaru Ambassadors wanted to find a way to do more for Foose Elementary. In addition to Myra, we now had seven Subaru Ambassadors volunteer to help plan and coordinate the next CRUISE FOR FOOSE. Boxerfest was canceled in 2020 due to COVID. The organizers of Boxerfest moved the event date for 2021 from June to September. This was a better date for us as we could coordinate CRUISE FOR FOOSE with Subaru of America's Loves Learning Adopt A Classroom activation. Faulkner Subaru Harrisburg adopted six classrooms at Foose Elementary School (providing the school with $3,000 for supplies) and the Subaru Ambassadors decided to collect school supplies at the 2021 CRUISE FOR FOOSE premeet. We were approached by Subaru of America to see if we would be interested in having a booth at Boxerfest featuring the Subaru Loves Learning initiative. the dealership and ambassadors were excited to have a closer tie-in to the event and the opportunity to collect more school supplies for Foose.The Subaru Ambassadors began planning CRUISE FOR FOOSE 2021. Through Zoom meetings, and in person pizza dinners at the dealership, everyone was hard at work securing a food truck, DJ, photographers, Subaru swag, rally car drivers, logos, t-shirt designs, social media posts, local police to direct traffic and establishing the route to drive from Harrisburg to BOXERFEST which was held at the York Fairgrounds. One Ambassador, Michele, coordinated with Subaru Motorsports rally drivers Rhianon Gelsomino and Travis Pastrana to sign some Subaru Gear that we would give away as prizes at the event. The Saturday before the event, the ambassadors gathered at the dealership to get everything ready for the next morning. They spent hours preparing swag bags, separating shirt sizes and finalizing every last detail. Finally the day arrived. Sunday September 26th at 5:45am. The early morning weather showed signs of a perfect fall day. In addition to our Subaru Ambassadors, employees from Faulkner Subaru Harrisburg and friends gathered to help get everything ready. The food truck rolled in, the DJ set the mood and the photographers captured all of it live! The cars started rolling in around 6:00am, in total, 111 cars with over 200 attendees! The school supplies donated were amazing! As the Subaru enthusiasts dropped off their school supplies and picked up their swag, they signed two CRUISE FOR FOOSE banners. The banners will be presented to the school when we deliver all of the donations. The highlight of the morning had to be the arrival of Will Hicks, the Principal of Foose Elementary, some of his teachers, staff and their families who came to thank us and send us down the road. After we left Harrisburg and arrived at BOXERFEST, the work was not finished. We were immediately greeted at our Subaru Loves Learning booth by hundreds of attendees that were dropping off MORE school supplies for Foose Elementary, INCLUDING rally car driver Bucky Lasek! Having the booth at Boxerfest simply tied everything together. As the General Sales Manager at Faulkner Subaru Harrisburg, I believe that it is important to recognize our Subaru Ambassadors for all of the hard work and the dedication they put in to make CRUISE FOR FOOSE 2021 a huge success. Lindsay Forney, Mellanie Gillman, Kevin Pataky, Chris Hyde, Michele Lee Kozimor-King, Megan Beissel, Huey Huynh and Myra Menzer made it all happen. Each of them understands the purpose of the Subaru Love Promise, everyday. And for this, I say Thank You!
---
Harrisburg Jazz Walk 2021 - Andy H
Thirteen live jazz bands performing concurrently at thirteen different venues, all in the same neighborhood.... who would've thought this would be possible, given the past year and a half? With the generous support of Faulkner Subaru Harrisburg, as well as our partnership with Dauphin County Parks & Rec, it WAS possible! There was a palpable energy up and down Third Street on Friday, September 10 as jazz filled the air. The Harrisburg Jazz Walk featured 32 musicians, all with a connection to the Harrisburg area, performing in cafes, rooftop bars, art galleries, and more. When we first approached Chris Carvell about supporting the event, he was curious - are there, in fact, enough local musicians to pull off such an ambitious endeavor? Would enough venues be interested in the event for it to be viable? We assured him that the answer to both was a resounding yes! In fact, there were three or four more venues who would've loved to have participated, but due to the pandemic, were not able to take part; we had musicians waiting in the wings to staff these venues, too. The Jazz Walk was a fan-favorite event of ours in the 90s and 00s. 2021 was the perfect time to bring it back: the recent emphasis on supporting local businesses & musicians, the availability of vaccines, and people's urge to get out of the house all combined for this perfect opportunity. We're so thankful that Faulkner Subaru Harrisburg was willing - excited! - to play a part in making the Jazz Walk happen, even as supply chain issues impact businesses around the globe. It's truly an honor to live in a community with such enthusiastic support for the arts.
---
Honoring 9-11 Pilot Michael Horrocks - Jeffrey S
It's hard to believe that 20 years has passed since that horrible day on September 11th 2001. We are so grateful that Faulkner Subaru and Doug Jones, General Manager, comes to the Hershey High school every year on 9-11 to talk to our students. On September 11th 2001 we lost 2,977 people in a terrorist attack on this country and a friend and classmate of Doug Jones was killed that day. His name was Michael Horrocks and he was the co-pilot of United Airlines Flight 175 which was the 2nd plane hijacked and flown into the South Tower of the World Trade Center in New York City. Mike was a Hershey High School student and West Chester University Graduate. He went in to the Marine Corp for 10 years and, after learning how to become a pilot, later became a flight instructor for the Marine Corp. Mike went to work for United Airlines after he got out of the Marines. Mike was only 38 years old when he was killed, married and had two children, a daughter 9 years old and a son 6 years old. Every year, Doug and employees from the dealership come to our school on September 11th to talk to our students about the events that took place, and more specifically, how those events impacted Mike and everyone around him that day. This is very important for our school because Hershey lost one of our own that horrible day, and as time goes on, people tend to forget the details - especially now that the majority of our students weren't born at the time of this tragedy. It's important for people to hear Michael Horrock's story and learn about the legacy he left here at Hershey High School. Doug also rides in the annual America's 9/11 Foundation Motorcycle Ride. This 4-day ride visits all three crash sites, Shanksville Pa, the Pentagon and New York City. Every year, Doug comes to the school in August to get the American Flag that flies over the Michael Horrocks Memorial at the football field and he buys the school a new one to replace it so he can proudly fly the Michael Horrocks American Flag from his motorcycle during this ride in honor of his friend. Thank you Doug and Faulkner Subaru Harrisburg who sponsors the America's 9/11 Foundation Motorcycle ride. Your donation and all funds raised go directly to our first responders and their children affected by September 11th 2001 in the form of scholarships, thank you for letting our students know that we should never forget what happened on September 11th 2001 and remember those we lost .
---
Helping to save our K9 Heros - Jenn E
Faulkner Subaru of Harrisburg has been supporting K9 Hero Haven for the past 4 years and what a difference they've made in finding homes for our war dogs, these are dogs that have served on the front lines in the military and police departments. K9 Hero Haven is a non-profit, volunteer organization. K9 Hero Haven is dedicated to serving the military, veterans, and first responders by providing working dogs a home for retirement. The K-9s employed with the military and first responders are the best at what they do. They are expected to work in the toughest environments and face the harshest conditions. At any moment, they are expected to selflessly give their life to save ours. Faulkner Subaru again this year was our Red, White & Blue sponsor of our annual K9 Hero Haven Golf Tournament; this is our biggest event of the year where we raise a large percentage of our annual funds to support our non-profit organization. As in the past years, Faulkner Subaru is our main sponsor and gave us a check for $3500.00! They always win the best dressed and most patriotic foursome which is one of the many awards we give out at the end of the tournament. Faulkner Subaru has made a huge difference in our mission to make sure that these dogs that have served our country have a great home to enjoy their retirement. Thank you, Faulkner Subaru, for your support and your continued dedication in making our community a better place.
---