The 2022 Subaru Love Promise Customer and Community Commitment Award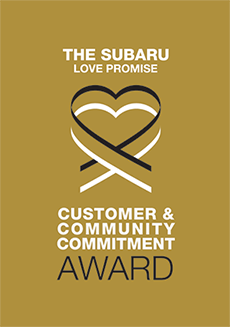 We've been nationally recognized for our dedication to our customers, our community, and the Subaru Love Promise.
We're honored to receive the 2022 Subaru Love Promise Customer and Community Commitment Award. This award nationally recognizes elite Subaru retailers who provide an exceptional customer experience at every interaction with Subaru. These retailers have also demonstrated an outstanding commitment to supporting passions and causes in their local communities in important areas such as the environment, community, health, education, and pets.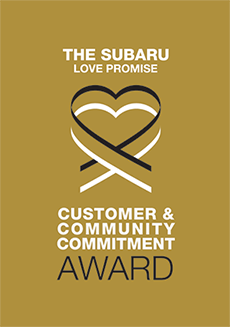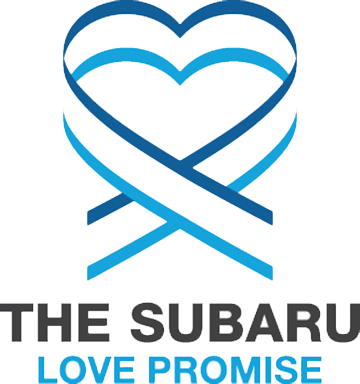 What is the Subaru Love Promise?
Subaru and our retailers believe in making the world a better place and the Subaru Love Promise is our vision of respecting all people. This is our commitment to show love and respect to our customers and to work to make a positive impact in the world.
How is Faulkner Subaru Harrisburg dedicated locally to the Love Promise?
Our Love Promise can be seen in various partnerships with local charities and non-profits. We're grateful for the opportunity, not only to be a part of our community, but to serve it as well.
Castaway Critters, Humane Society of the Harrisburg Area, Speranza Animal Rescue
Capital Area Greenbelt, Love the Hill, TerraCycle Recycling Program
Central PA Friends of Jazz, Dauphin County Vo-Tech, Foose Elementary School, Harrisburg Symphony Orchestra, LOOP Boyz & Girlz, Milton Hershey School, River City Big Band, Susquehanna Art Museum
CATRA, Cocoa Packs, Diakon Youth Services, Graceful Acres, Paxton Ministries, The Middletown Home
K9 Hero Haven, Leukemia & Lyphoma Society, PA Breast Cancer Coalition, The Kidney Foundation
Love Promise Stories from Faulkner Subaru Harrisburg
Subaru and Faulkner Subaru Harrisburg believe in making a positive impact on the communities in which we live and work. We uphold that belief through our Love Promise Community Commitment. Every month, we select inspiring stories from customers and partners from around our area who strive to support our collective commitment and feature them here
42nd Annual Jazz Fest at Camp Hill High School - Armon R
It had been since 2019 that Camp Hill High School hosted its last Jazz Festival. The festival, which had been going for 41 years strong at that point, was immediately cancelled at the start of the pandemic. The Camp Hill Jazz Festival is an all-day event that brings in music students from all over central Pennsylvania to perform for their families, other students, and professional jazz musicians that follow up their performance with a clinic. Throughout the course of the day, over 1,000 people enter our Performing Arts Center. It has been a staple in our community for decades, and simultaneously serves as the biggest fundraiser of the year for the Camp Hill Band Booster Club, a 501(c)(3) organization whose purpose is to serve the instrumental music program in the Camp Hill School District. The booster club pays for staff, props and equipment for marching band, clinicians, indoor color guard, banquets for the students, and helps students fundraise and pay for annual trips to places such as Chicago, Charleston, Boston, Virginia Beach, and Walt Disney World. When we started the process of finding sponsors to help fund this festival and our following year of operations, we were not sure who would be willing to step up coming out of a pandemic and give so generously to the program. Without skipping a beat, Chris Carvell and his team at Faulkner Subaru in Harrisburg committed to make this festival and our future endeavors a reality. With their help, we were able to offset the costs of the festival to turn out a profit which benefits the students as we head into marching band season. We are grateful for the generous donation, and look forward to hopefully partnering with Faulkner Subaru in the future. The team truly embodies the Subaru Love Promise, and we are so thankful to have this wonderful pillar in our community. Sincerely, Armon Raygani Director of Bands Laura Wilkins & Allison Riley Band Booster Co-Presidents
---
Jazz is Alive at Boiling Springs High School - David Y
Saturday April 23rd at Boiling Springs High School, the auditorium with filled with the sounds of area middle school and high school jazz bands at the Boiling Springs High School Jazz Festival held for the first time since 2019. We appreciate the support that Faulkner Subaru gives to the Boiling Springs music program and our fantastic musicians. This is the third year that Faulkner Subaru has supported our jazz festival which includes eight area middle school and high school bands. The funding also helps us to bring in some of central Pennsylvania's top musicians to hold clinics with the students after their bands perform. The last band to perform was the Harrisburg Jazz Collective which features some of the finest musicians in Central Pennsylvania and we are fortunate that the students have the opportunity to be exposed to some great big band jazz! The Boiling Springs Jazz Festival is a great day of music and learning that will last a lifetime for these students. Thank you to Faulkner Subaru Harrisburg for helping to keep music alive in our schools! David Yinger
---
Share the Love with K9 Heroes - Anne G
Faulkner Subaru of Harrisburg has been supporting K9 Hero Haven for the past 5 years and what a difference they've made in finding homes for our war dogs, these are dogs that have served on the front lines in the military and police departments. K9 Hero Haven is a non-profit, volunteer organization. K9 Hero Haven is dedicated to serving the military, veterans, and first responders by providing working dogs a home for retirement. The K-9s are deployed with the military and first responders and they are the best at what they do. They are expected to work in the toughest environments and face the harshest conditions. At any moment, they are expected to selflessly give their life to save ours. Last year in 2021 the General Manager, Doug Jones, which we know very well after supporting us for the last 5 years, called me to let me know that he and the employees at the dealership chose K9 Hero Haven to be their Hometown Charity partner for the Share the Love Event which takes place the last 6 weeks of the year, when I got this news from Doug I was so excited that they chose us, I know Faulkner Subaru in Harrisburg supports many different charities and non-profit organizations so we were honored and grateful they thought of K9 Hero Haven to be their Hometown Charity. Doug invited us to come to the dealership on April 7th to present us with a Share the Love check from funds that were raised during the event, he said to bring some of my volunteers and a few of dogs that we are trying to find retirement homes for, so I arrived at Faulkner Subaru with 3 of my volunteer staff and 3 of our dogs, 2 dogs retired from the military that were deployed in Afghanistan and 1 retired Law Enforcement dog, I could not believe what we saw when we walked in to the dealership, all the employees were in the showroom with posters and banners that had our K9 Hero Haven logos on them, it was such a festive atmosphere, we got a hero's welcome from the Faulkner Subaru staff as we walked in, we had no idea what to expect when Doug asked us to come to the dealership, but I can tell you we were overwhelmed with their generosity and hospitality, we didn't know how much money was raised so Doug gathered everyone in the showroom to present us with a check for $30,000, I thought I was going to faint…..$30000…..I couldn't believe it, K9 Hero Haven is a non-profit, 100% volunteer organization and we are supported by donations and fund raising and we are happy when we have a bake sale or spaghetti dinner and raise $500 per event so to receive $30,000 unbelievable, at K9 Hero Haven we currently have 60 dogs that have served this Country in different capacities and we are outgrowing our current facility so we have 5 acres of land, but just needed to raise the funds to build a new facility to house our dogs and give them the live they deserve, thanks to Faulkner Subaru this will become a reality, Faulkner Subaru has made a huge difference in our mission to make sure that these dogs that have served our country have a great home to enjoy their retirement. Thank you, Faulkner Subaru for thinking of others and being such a great example, you definitely are more than a car dealership.Anne Gibbs, Founder K9 Hero Haven
---
Support of Capital Area Greenbelt Association - David M
Faulkner Subaru Harrisburg Expands Contributions Supporting Well-being, Awareness, and Maintenance of Capital Area Greenbelt HARRISBURG, Pa. (April 19, 2022) – Faulkner Subaru Harrisburg, a multi-year supporter and neighbor of the Capital Area Greenbelt Association (located at 3233 Paxton Street just off the Greenbelt), recently expanded its commitment to the well-being of the Greenbelt, a 24-mile, century-old system of picturesque natural areas, parks, and open areas, as well as surrounding nature spaces. On the morning of Saturday, April 2, Faulkner Subaru Harrisburg hosted CAGA representatives for the unveiling of a new display in their service area that features the Greenbelt and encourages customers to walk on the trail while they wait for their vehicle services to be completed. Part of the Subaru Loves the Earth campaign, the display includes CAGA signage Faulkner Subaru Harrisburg, informational brochures, and even floor clings leading customers in the direction of the Greenbelt. Representatives from both organizations cut a ceremonial ribbon to officiate the occasion. "We're very excited to be included as a part of Faulkner Subaru Harrisburg's Subaru Loves the Earth campaign," said CAGA Board President Mike Shaull. "The Greenbelt runs right alongside the Faulkner Subaru Harrisburg property, and we're honored that they've chosen to build such a strong relationship with us over the years. Through this campaign, we hope that many of Faulkner Subaru Harrisburg's customers will connect with nature and discover the outstanding community resource that is the Capital Area Greenbelt." "The Greenbelt is a beautiful and historic trail that connects the Harrisburg community, and it's a vital part of central Pennsylvania," said Faulkner Subaru Harrisburg General Sales Manager Chris Carvell. "We're fortunate to have the Greenbelt next to the dealership, and while the Subaru Loves the Earth initiative helps to remind us that it is important to take care of the beautiful nature that surrounds us, we believe it is the right thing to do, every day." Immediately following the display unveiling, a group of nine volunteers – two from CAGA and seven from Faulkner – participated in a clean-up project on a nearby one-mile section of the Greenbelt that Faulkner Subaru Harrisburg has committed to maintain through a new trail sponsor program offered by CAGA. In total, the group spent three hours collecting refuse, filling 25 full-size garbage bags with litter. During the clean-up portion of the event, CAGA also presented Faulkner Subaru Harrisburg with five metal signs that will be hung along its adopted section of the Greenbelt in recognition of their sponsorship. "We currently have four local businesses that have signed up for our trail sponsor program. They are Faulkner Subaru Harrisburg, Penbrook Leo Club on behalf of Keep PA Beautiful, Philadelphia Insurance Companies, and Covanta," said Pam Holzman, a CAGA board member who helps facilitate the program. "We're pleased to see the trail sponsor program take off, and we're incredibly thankful to Faulkner Subaru for helping lead the way. We encourage other local businesses to consider signing up for the program as an opportunity for their employees to give back to the local community as well." In addition to spotlighting CAGA to its customers and caring for a section of the Greenbelt, Faulkner Subaru has also sponsored CAGA's signature Tour de Belt fundraiser at the $3,000 level (for the 4th year in a row) and contributed an additional $1,500 to the Greenbelt from proceeds of a golf tournament it held last summer. CAGA is a volunteer-run, non-profit community organization whose goal is to maintain the Greenbelt trail and foster access to green space for all residents of the capital region. To learn more about supporting the organization through volunteerism or financial contribution, visit caga.org or email caga@caga.org.
---
Faulkner Subaru supports th Capital Area Greenbelt - Pam H
Faulkner Subaru sits right on the Capital Area Greenbelt and has adopted the trail from Derry St to the Five Senses Garden behind the Harrisburg Mall. They recently installed colorful graphics in the service area promoting the Greenbelt and other charities they support. The graphics encourage people to Go for a Walk while getting service done on their vehicles. To celebrate the new display they organized a trash pick up day with their Subaru Ambassadors and members of CAGA. We removed 25 bags of disgusting garbage from the trail, along the road and near the Paxton Creek. My friend Karen said something that day while we were picking up trash "Seeing all that garbage on the trail made me loose faith in humanity until I looked around and saw the other volunteers working together to clean it up - and my faith was restored" Thanks to all the kind folks at Faulkner who work to keep the Greenbelt beautiful for all our residents and visitors.
---
Love Always Wins at Cocoa Packs - Christine D
Founded in 2015, Cocoa Packs has grown from assisting 92 children facing food insecurity in Derry Township to helping over 1,300 children, across 18 different school districts and several counties. Children who are active in the food assistance program are also eligible to participate in our extension programs which include our Clothing Closet, Food Rescue ,Special Events such as Spring Fling, Fun in the Sun, Back to School Bash, Harvest Hoe Down and our unique shopping experience at Cocoa Packs Presents. Each of these help to contribute to the enhancing their overall emotional and physical wellness. Since our early days, Faulkner Subaru and President Doug Jones have been steadfast in their support and an instrumental part of Cocoa Packs' ability to grow and continue to impact the lives of more children. Whether it be one of many generous sponsorships of our programs or being present at events such as our annual Heart 4 Hunger fundraiser, promotion and awareness of our organization, donations to help sustain our operations through the pandemic when our enrollment skyrocketed, or with heartfelt demonstrations of compassion and service through volunteer opportunities, Faulkner Subaru has been a constant beacon of light and love. They don't just say it they show it in meaningful ways that make our kiddos feel like the most important individuals on the planet. As an organization, we are committed to highlighting how love always wins at Cocoa Packs. We intentionally lead with love and care to make a difference in the lives of children. It's inspiring to see how Doug and his entire team embody the vision and purpose of the Subaru Love Promise. We are so grateful for the way they partner with us to make this transformational work possible. THANK YOU, Faulkner Subaru Harrisburg, for being the gold standard of what community partnership looks like and for helping make a difference in the lives of so many children in our area.
---
Gulliver's Run - John H
Nine years ago we lost one of our Vizslas named Gulliver to canine lymphoma after enduring a 13 month odyssey of clinical trials and other treatments. Gulliver remained active and happy until a few days before crossing the final finish line. Gulliver proved that he was a running companion to the end. My wife and I were determined to continue helping to fight the battle against canine cancer in honor of Gulliver. We wanted to find a way to help other pet owners that have been impacted by the loss of a pet to this disease. In November 2013 we launched Gulliver's Run, a 5k Trail Run/Walk for people and dogs which is held at Pinchot State Park. The IRS approved our event as a 501(c) 3 enabling us to raise funds as a non-profit which allows us to donate the proceeds from the event directly to organizations involved in fighting canine cancer. Our first 5 years were productive but challenging because we lacked a major sponsor. Many friends and local small businesses helped us, but we always believed there was solid financial support somewhere just over the horizon. Early in the fall of 2018, a few months before our November event, Doug Jones of Faulkner Subaru in Harrisburg contacted us with an offer of $2,000 to support Gulliver's Run. We were elated by his offer! We were aware of Subaru's national efforts to help non-profits and of course they are very dog friendly. But here, on a local level, Faulkner Subaru Harrisburg was willing to contribute to a community based effort. Along with their financial support, employees from Faulkner Subaru attend the race and volunteer their time to help with the event. To our amazement the support from Faulkner Subaru was not a not a one and done sponsorship. We have received a total of $9,500 from Faulkner Subaru since 2018! Gulliver's Run is very appreciative of the generous financial support that Faulkner Subaru has provided to us for the past four years. There support has made it possible for Gulliver's Run to carry on the fight against canine cancer in true community fashion. Thank you to Doug and all of our friends at Faulkner Subaru!
---
Random Acts of Kindness Day! - Christopher C
At Faulkner Subaru Harrisburg, we LOVE helping people and organizations in our community. For Random Acts of Kindness Day held on February 17th, we asked our employees for suggestions on where or what we could do to help that would be…RANDOM! While we had a lot of great ideas, it was a suggestion from our Service Advisor, Terry Walters that really hit home. He mentioned that his wife, Alyssa, saw a Facebook post on the Linglestown message board last summer from a woman named Michon requesting help to deliver meals that she had prepared for a group of homeless people living under a bridge in Harrisburg. It was a rainy August Sunday afternoon and Michon's regular volunteers were not available to help. Alyssa and Terry offered to lend a hand and the rest is history! Michon (who now runs the Eclipse Project) prepares hot meals on Sundays for the homeless group and she also collects supplies such as clothing, tarps, batteries and other items that they need. Every week Alyssa and Terry drop off food to Michon for her meal preparations and they help (at least) once a month to deliver meals. Terry cuts and splits wood from trees on his property and delivers it to the homeless group and they frequently drop off other supplies. Their family has also donated clothes and blankets to the group. Terry, his wife and family are truly living the Subaru Love Promise which made it an easy decision for everyone at the dealership to support the work that Terry and Alyssa are doing to help others! When we heard Terry's story, we knew that this was the perfect fit for the crew at Faulkner Subaru because helping is what we DO! We also included our Subaru Ambassadors who are always ready and willing to lend a hand! We sent out a message to all of the dealership employees and the Subaru Ambassadors letting them know what supplies we needed to collect and that we would be making the delivery on Thursday, February 17th at 10:00a.m. As usual, the response was AMAZING! On the morning of Random Acts of Kindness Day we loaded up our Faulkner Subaru Harrisburg Love Promise Ascent with everything that was donated and headed for Mulberry Street! For many of us, it was our first visit to this homeless community and one that is sure to be a moment and memory that will last a lifetime. We were greeted by a shocked, appreciative and humble group of people. We brought clothes, blankets, batteries, Sterno, tarps, flashlights, sleeping bags and so much more! Terry brought a truckload of wood that he cut and split on Wednesday night after work with our technician, Jeff Thomas. Everyday items that we take for granted were treated with graciousness and care as everyone helped us unload the Ascent and put everything in a safe place. Knowing that Michon lives close by, Alyssa contacted Michon and asked her to join us under the bridge. When she arrived, Michon recognized Terry and Alyssa but she was surprised to see all of the other employees from the dealership including the General Manager, Doug Jones. Michon was speechless when Doug presented her with gift cards to use for purchasing food that she prepares for the homeless group. This also gave us the opportunity to thank Michon for her hard work and dedication in helping others. Words could not describe how much everyone appreciated the items that were donated. The ride back to the dealership once again reminded everyone why we do what we do. Not for the glory or to brag, but to remind us that there are others in need. People in our community that are less fortunate or in a place where they never intended but still making the best of every day given what they have. Faulkner Subaru Harrisburg is fortunate to have 54 dedicated employees, an amazing group of Subaru Ambassadors and the support of Subaru of America that all know the importance of taking care of those around us in our community. Not just on Random Act of Kindness Day, but every day!
---
You say you are extremely proud of your team…… - Darla S
I actually believe what you say about your team and specifically your Express Service Advisor Carlos Dennis. Here's why. I recently purchased my 2nd Subaru this month. After a terrible start over at Mechanicsburg with our first Subaru, my husband and I switched to the dealership on Paxton St and this is where I met Carlos. I want to tell you that you have an exceptional representative for your dealership. The few times that I have been in there for service, Carlos has greeted me every single time. Not only does he remember my name and what I drive, he remembers what the problems were and why I am in for service. What does this mean to me as a consumer you may ask? It means a great deal. When you pull into the service garage, there is Carlos waiting for you. When I have a problem with a vehicle, I am weary and I have no answers on how to fix the problem. When you see someone that you trust, it brings a sense of relief that you know your problem will be solved. Carlos is always polite, has the paperwork ready and directs me where to go. Yesterday when I pulled in to the garage, Carlos was not there and my first thought was - - Oh no…..where is Carlos? He soon found me and I was relieved because I knew he would process my paperwork and get me started for my appointment ( he did explain that he was inside working because of how cold it was outside.) Mr. Jones, please commend and reward Carlos for the great job that he does and for representing your dealership in such a good light. I think that as President of Faulkner Subaru, you should be aware of just how outstanding of a job that he does representing Faulkner and YOU every single day. You can't ask for anymore! Sincerely, Darla Shank
---
Kudos to Jusin and Trent - William P
Ms Bollman,Just a brief note to pass on kudos to Justin and Trent for completing the upgrade to the Starlink system in my 2017 Crosstrek in advance of a February 1 deadline, when I would have lost Starlink service and the complimentary 5G module. Justin was able to schedule me for the upgrade on the January 31st at the last minute, and I understand that Trent may have stayed late that night to finish the install. I appreciate their efforts and professionalism. As a long time customer of Faulkner Subaru, it's great to see this continuing level of service. William Pool
---