The 2021 Subaru Love Promise Customer and Community Commitment Award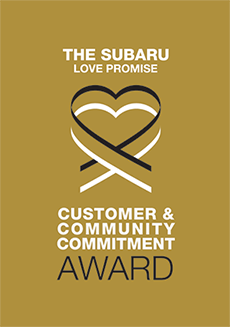 We've been nationally recognized for our dedication to our customers, our community, and the Subaru Love Promise.
We're honored to receive the 2021 Subaru Love Promise Customer and Community Commitment Award. This award nationally recognizes elite Subaru retailers who provide an exceptional customer experience at every interaction with Subaru. These retailers have also demonstrated an outstanding commitment to supporting passions and causes in their local communities in important areas such as the environment, community, health, education, and pets.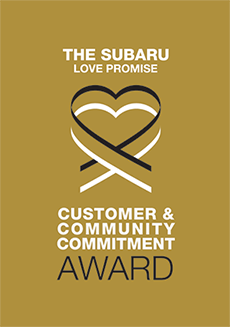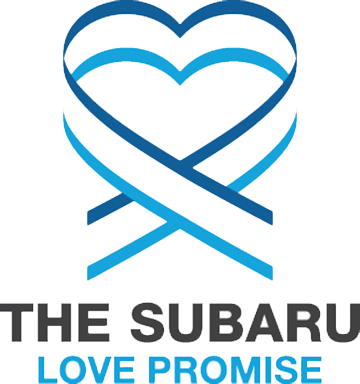 What is the Subaru Love Promise?
Subaru and our retailers believe in making the world a better place and the Subaru Love Promise is our vision of respecting all people. This is our commitment to show love and respect to our customers and to work to make a positive impact in the world.
How is Faulkner Subaru Harrisburg dedicated locally to the Love Promise?
Our Love Promise can be seen in various partnerships with local charities and non-profits. We're grateful for the opportunity, not only to be a part of our community, but to serve it as well.
Castaway Critters, Humane Society of the Harrisburg Area, Speranza Animal Rescue
Capital Area Greenbelt, Love the Hill, TerraCycle Recycling Program
Central PA Friends of Jazz, Dauphin County Vo-Tech, Foose Elementary School, Harrisburg Symphony Orchestra, LOOP Boyz & Girlz, Milton Hershey School, River City Big Band, Susquehanna Art Museum
CATRA, Cocoa Packs, Diakon Youth Services, Graceful Acres, Paxton Ministries, The Middletown Home
K9 Hero Haven, Leukemia & Lyphoma Society, PA Breast Cancer Coalition, The Kidney Foundation
Love Promise Stories from Faulkner Subaru Harrisburg
Subaru and Faulkner Subaru Harrisburg believe in making a positive impact on the communities in which we live and work. We uphold that belief through our Love Promise Community Commitment. Every month, we select inspiring stories from customers and partners from around our area who strive to support our collective commitment and feature them here
Helping to save our K9 Heros - Jenn E
Faulkner Subaru of Harrisburg has been supporting K9 Hero Haven for the past 4 years and what a difference they've made in finding homes for our war dogs, these are dogs that have served on the front lines in the military and police departments. K9 Hero Haven is a non-profit, volunteer organization. K9 Hero Haven is dedicated to serving the military, veterans, and first responders by providing working dogs a home for retirement. The K-9s employed with the military and first responders are the best at what they do. They are expected to work in the toughest environments and face the harshest conditions. At any moment, they are expected to selflessly give their life to save ours. Faulkner Subaru again this year was our Red, White & Blue sponsor of our annual K9 Hero Haven Golf Tournament; this is our biggest event of the year where we raise a large percentage of our annual funds to support our non-profit organization. As in the past years, Faulkner Subaru is our main sponsor and gave us a check for $3500.00! They always win the best dressed and most patriotic foursome which is one of the many awards we give out at the end of the tournament. Faulkner Subaru has made a huge difference in our mission to make sure that these dogs that have served our country have a great home to enjoy their retirement. Thank you, Faulkner Subaru, for your support and your continued dedication in making our community a better place.
---
Chapter 8 Time to Celebrate - Jodie S
It was with an atmosphere of celebration that Faulkner Subaru Harrisburg, Subaru of America and Subaru Ambassadors joined us at Paxton Street Home for a picnic recently! We have all been through a difficult 2000 and are now finding our way out in ways that are safe for us. Gathering together outside was a great step forward in our shared healing from the anxiety, restrictions and isolation of the past year. We appreciated how the Subaru team easily connected with the residents of Paxton Street Home. Most of our residents have chronic mental illness and no financial resources. These are people too often overlooked or even ignored in our society. But the Subaru group had no hesitation. This was a day to have great food, play games, enjoy fantastic music and get to know new friends or see old friends again. By now, Doug Jones, President of Faulkner Subaru Harrisburg is highly experienced in grilling burgers here for a crowd. And Chris Carvell, General Sales Manager is an expert in planning and purchasing all that is needed for a great picnic. Their commitment to the community is something that sets Faulkner apart from other businesses. We know that there are still lingering challenges from the pandemic for all of us-business and long-term care. But let's not lose site of the progress that has been made, that we can gather together again and celebrate our friendship! Our sincere thanks to Faulkner Subaru, Subaru of America and the Subaru Ambassadors.
---
Lifting the Spirits of our Youth - Anthony B
It was a beautiful morning in May 2021 when I went in to Faulkner Subaru in Harrisburg Pa. to talk to Doug Jones, General Manager, this is something I do from time to time as the founder of the Left Out Organization Program (LOOP) in Harrisburg, At LOOP our mission is to help and provide aid for the youth in the community. We aim to give the youth a sense of self-esteem as well as establish teamwork that will challenge personal achievements and stability with the opportunity to increase responsibility. The values and principles taught in our program would prepare them for a positive future and the opportunity to become fully functional adults. The Covid pandemic has presented us with many challenges, although we could not function the way we normally do, we are doing our best to stay in contact with and help at risk children in Harrisburg. I felt that we had to lift the spirits of the children in our program especially during the pandemic. Many of our kids are dealing with family issues, hunger, social issues and now more than ever, many of them are struggling with mental issues due to the lack of social interaction due to quarantining because of Covid. During my visit with Doug Jones we were talking about all the struggles our students in our program were having and he mentioned organizing an event at the dealership to help the kids during this difficult time where we give every child in the LOOP program a new bike and that we can give them away at the dealership. I thought this was a great idea! So on June 26th we brought our LOOP kids to the dealership and we gave away 40 bikes!!!! What a day it was. Faulkner bought 40 bikes, had them all lined up, set up food and drinks, put up tents and surprised the kids with new bikes. It is hard to express what this act of kindness means to these kids and it shows them that people care about them. To see the Faulkner employees interact with the kids was also truly inspiring. We couldn't have done this without the help from Faulkner Subaru Harrisburg. They never skipped a beat during the pandemic continuing their support of LOOP and our youth even though their business was affected. Doug always stayed in contact with us and would constantly ask us what we needed and how they could help us continue with our mission. Our relationship with Faulkner Subaru started 5 years ago when they heard about our mission to help and mentor the at risk youths in Harrisburg. Out of the blue they contacted us and wanted to come to our facility and see what we do and how they could help us with our program. During our 5 year partnership with Faulkner Subaru in Harrisburg we have increased the number of children we can mentor and help, Faulkner donated a van to us so that we can transport our students to and from our facility safely. We have had many events which Faulkner Subaru has sponsored and volunteered their time to make the lives of others better. Thank you Faulkner Subaru for truly caring about the community in which you do business, you are saving the lives of our youths one life at a time.
---
Helping to keep the Capital Area Greenbelt...GREEN - Diane K
We are so pleased to have this wonderful dealership in our area. Faulkner Subaru Harrisburg truly recognizes the value of making the Harrisburg Area a better place to live, work and play. Keeping it Green is more than a slogan to Faulkner Subaru, they practice what they preach. For the past three years the Capital Area Greenbelt Association has been proud to have Faulkner Subaru Harrisburg as a Silver Sponsor to our annual Tour de Belt event. The annual Tour de Belt features a Walk, Run, Bike event for all ages along the nineteen mile trail through Harrisburg. All of the proceeds help with maintenance, upkeep and expansion of this "Emerald Necklace" surrounding the Harrisburg area. In 2021 Faulkner Subaru Harrisburg along with their Subaru Ambassadors also volunteered to adopt a one mile section of the Capital Area Greenbelt from Derry Street to the Five Senses Garden. This section requires many hours of clean up and trash removal each year. Their generous commitment to this heavily trafficked section will free up the volunteers at the Greenbelt Association to spend more time on the remaining 18 miles of trail. The section of the Greenbelt that Faulkner Subaru adopted is adjacent to the dealership and many of their customers enjoy walking the trail and through the Five Senses Garden while their Subaru's are being serviced at the dealership. In addition to sponsoring the Tour de Belt and adopting the one mile section of the Greenbelt, a group of employees at Faulkner Subaru selected the Capital Area Greenbelt as the charity for their golf team to sponsor in 2021. Several Faulkner Subaru Harrisburg employees are avid golfers. To give their game more purpose and make it more challenging they have formed three teams (12 employees) at the dealership representing three (of the many) non-profit organizations that Faulkner Subaru supports in central Pennsylvania. The teams will track their scores while golfing throughout the summer. In September, the dealership will award 1st, 2nd and 3rd place prizes to the teams totaling $5000 that will be given to the three charities that were selected by the golfers. The Capitol Area Greenbelt is thrilled to have been chosen as one the benefitting charities! Some companies talk about their "green initiatives" and "supporting" their local charities. Faulkner Subaru Harrisburg, their Subaru Ambassadors and the employees truly are committed to the community that surrounds them. The Capital Area Greenbelt is thankful for this community minded dealership! Board of Directors Capital Area Greenbelt Association, Inc. www.caga.org
---
Sharing the Love for 9 years! - Jenine G
Faulkner Subaru literally has saved hundreds and hundreds of animals from dogs, cats, goats, horses, sheep, alpacas, pigs and yes zebras and even a camel, we rescue all kinds of animals and their kindness and generosity over the past 9 years has truly left us speechless! What began as a thoughtful donation of $3,000 in June of 2013 to give lifesaving care to a dog named Zeus quickly grew into a wonderful relationship between Faulkner Subaru Harrisburg and Speranza Animal Rescue. In 2013, Zeus, an abused dog that was brought to our rescue needed immediate care from his injuries which cost $3,000 in vet bills. When Faulkner Subaru Harrisburg heard of this story they stepped up without hesitation and donated all of the money to pay the bill. Every year since their initial donation in 2013, Faulkner Subaru Harrisburg has included Speranza as one of their Hometown Charities for the annual Subaru Share the Love Event. This year's donation from Share the Love was $14,500 which marks over $140,000 donated from Faulkner Subaru Harrisburg since their support of Speranza Animal Rescue began! In addition to the Share the Love funds they also frequently sponsor food and supply drives at the dealership though the Love Pets event. We look forward to having the Faulkner staff deliver all of the supplies that are donated and collected at the dealership through this awesome event. Speranza Animal Rescue is able to provide quality care for neglected and abused animals because of donations that we receive from Faulkner Subaru which is why we value the love and support that we get from organizations like Faulkner Subaru Harrisburg so incredibly much! Faulkner Subaru Harrisburg has always set the example in our community and we so much appreciate their commitment to making the lives of others better, whether it's a human life or an animal live they truly care.
---
More Love to Share with LOOP - Anthony B
The Left Out Organization Program (L.O.O.P.) is truly humbled and grateful for the continuous support from the Faulkner Subaru Harrisburg family. We would like to thank the Faulkner Subaru Harrisburg family for being selected as one of their Hometown Charities for the Subaru Share the Love Event for the second year. We were truly humbled when we were presented with a check for $14,000!! Continuing to provide services to youth, young adults and their families during a pandemic proved to be challenging but not impossible. L.O.O.P. provides a safe place for at risk youth and young adults in Harrisburg for after school activities as well as during the summer break. We provide mentoring, homework assistance, life lessons, job preparedness, field trips and much more. Through the support of Faulkner Subaru Harrisburg, we have been able to provide uniforms to youth for school, equip them with book bags filled with essential items during the pandemic to include hand sanitizer, face masks, facial tissues and school supplies needed to prepare them for a successful school year. We have taken the youth on various field trips and when the city schools closed their buildings, we were able to secure a building to provide services for our program. The Faulkner family was right there to support our feed the community events where fresh produce boxes were provided to families throughout the community for several weeks. We were unable to hold our traditional community dinner during the holidays, but quickly moved into preassembling the meals and safely distributing them to the families. When we asked Faulkner to provide candy to the youth for the community dinner, they were right there to support. Faulkner Subaru Harrisburg continues to go above and beyond for the youth that participate in the L.O.O.P. program. Faulkner also looks for ways to bring their community partners together in hopes of strengthening the impact on others in need in the Harrisburg area. Their thoughtfulness and generosity is felt throughout the City of Harrisburg. L.O.O.P. is truly blessed to have Faulkner Subaru Harrisburg support. The Faulkner family compassion and commitment to support the community as a whole is commendable.
---
Employees Show The Love!! - Jennifer K
Demonstrating they are more than a car company, Subaru retailers just concluded a two-year campaign that helped provide 2.25 MILLION meals to the Central Pennsylvania Food Bank's 27-county service area. In addition to giving financially, many dealerships also volunteered at the Food Bank's Healthy Food Hubs packing nutritious meals. Together, they packed over 350 boxes totaling 21,700 lbs. of food. The Central Pennsylvania Food Bank has provided more than 58 million meals to our neighbors in need since the beginning of the COVID-19 pandemic and thousands of those neighbors were facing food insecurity for the first time. Special thanks to Faulkner Subaru Harrisburg and Subaru of America employees for showing their love to our community!
---
The Dream House - Spring Cleaning - Anthony S
The Dream House is a supportive, residential home for young ladies ages 18-24. We serve two main populations, those who have aged out of foster care and/or are facing homelessness. We launched our mission to open the Dream House in March of 2020, when we moved our first young lady in. We provide young women a place to grow, heal and learn skills needed to become successful adults, we accomplish this thorough accountability, healing and relationship. The one day I won't forget is the day I got a phone call from Doug Jones, General Manager at Faulkner Subaru, he introduced himself and told me he would like to help us in our mission of the Dream House, I was blown away that a business was calling me to help us with getting the Dream House up and running, this was a blessing since we are a non-profit organization and we rely on donations and volunteers to help the lives of young women we take in. Faulkner Subaru of Harrisburg has been a huge blessing to The Dream House during our first year of operation. They started with an extremely generous donation of $5,000 back in October of 2020. This blew us away to say the least! Recently we invited Doug and Chris Carvell to tour the The Dream House to see some of our recent improvements and talk about some projects that need to be completed and talk about the upcoming Spring Cleaning Day we were planning. Doug and Chris told us that they would talk to their employees and some Subaru Ambassadors to put together a team of volunteers to help. They did not disappoint...We had our Spring Cleaning Day on April 17th, 2021 and Chris put together an amazing team of Subaru Ambassadors as well as employees from the dealership. They helped build us a garden (awesome!) and do a thorough cleaning and organizing of our basement which had accumulated a lot during our first year of ministry! Two of the Subaru Ambassadors even built us an amazing shelving unit for us to increase our storage capacity which we greatly needed! They all came with such positive energy and willingness to serve in whatever way was needed. Then, to top it all off, Doug handed me a check for $1,000 during our lunch break! WOW! When Doug and Chris visited The Dream House in March, I had mention that one of the projects we were looking to complete was to install some air conditioning units for the girls. Doug quietly handed me the check and said that he hoped it would help with the project. We are so grateful to be linked with an organization of this caliber! What an encouragement to know that there are businesses out there that care this much about the communities they are in. Thank you so much Doug, Chris, Subaru Ambassadors and your amazing team!!
---
Students of the Year - Leukemia & Lymphoma Society - Mikayla and Madelyn D
For the past 7 years, nominated students across Central Pennsylvania have been raising money to support the mission of the Leukemia and Lymphoma Society; to cure blood cancers and improve the quality of life of blood cancer patients and their families. Students of the Year is a fundraising competition and leadership program for high school students to raise awareness for blood cancers and LLS in their local communities. We are Mikayla and Madelyn DeMatt, a senior and junior at Central Dauphin High School. From January 21st to March 12th, we took on the challenge of Students of the Year. Our family knows first hand the challenges that come with a loved one being diagnosed with a blood cancer. In 2012, our dad was diagnosed with non-hodgkin's lymphoma. Since then, we have been passionate about supporting the LLS, an organization that helped our family through such a troubling time. Students of the Year was an experience like no other for us. Taking on the role of leading a multigenerational team was difficult, and we've definitely grown so much from it. One of the most challenging aspects of this campaign was reaching out to local businesses and companies to share our story and ask for their support. During our campaign, we met with Mr. Doug Jones from Faulkner Subaru Harrisburg. He was one of the easiest people to talk to that we met, and was so open to listening to us and engaging in conversation. We left our meeting feeling excited for meeting someone as kind as him. We raised a total of $144,191 during our seven week campaign, and we were named Students of the Year for Central PA. We are beyond thrilled with the work that we have done, so that the money we raised can go towards helping other patients like our dad and the countless others affected by blood cancers. We would like to thank Faulkner Subaru Harrisburg and Mr. Jones tremendously for generously donating $5,000 to our Students of the Year campaign. We couldn't have been this successful without the Faulkner Subaru love and support!
---
A Pandemic Can't Stop The Love - Jennifer K
A Pandemic Can't Stop the Love. The Central Pennsylvania Food Bank has seen an outpouring of support from the community that has been incredible. Thousands of generous individuals and companies have helped to Give Hope Now, but our work is far from over. The Food Bank has seen demand for food assistance increase more than 40% in the past year and expects demand to remain at these high levels for the next two years. With a "strong front" to combat hunger, the Food Bank and its more than 1,000 partner agencies and programs provided over 50 million meals this past year. But community support is what gets the job done - volunteering, donating and raising awareness all contribute to addressing food insecurity across Pennsylvania. Thank you Faulkner Subaru for your generous donation of 156,762 meals to the Central Pennsylvania Food Bank. Together, we can end hunger. https://www.centralpafoodbank.org/
---