The 2022 Subaru Love Promise Customer and Community Commitment Award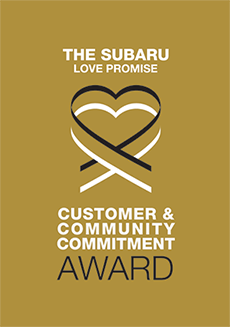 We've been nationally recognized for our dedication to our customers, our community, and the Subaru Love Promise.
We're honored to receive the 2022 Subaru Love Promise Customer and Community Commitment Award. This award nationally recognizes elite Subaru retailers who provide an exceptional customer experience at every interaction with Subaru. These retailers have also demonstrated an outstanding commitment to supporting passions and causes in their local communities in important areas such as the environment, community, health, education, and pets.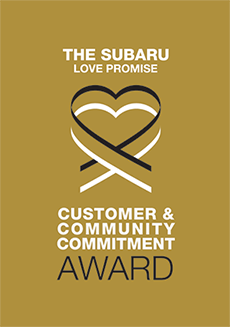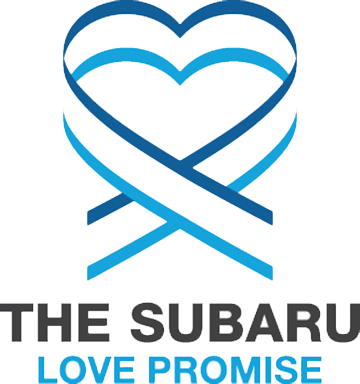 What is the Subaru Love Promise?
Subaru and our retailers believe in making the world a better place and the Subaru Love Promise is our vision of respecting all people. This is our commitment to show love and respect to our customers and to work to make a positive impact in the world.
How is Faulkner Subaru Harrisburg dedicated locally to the Love Promise?
Our Love Promise can be seen in various partnerships with local charities and non-profits. We're grateful for the opportunity, not only to be a part of our community, but to serve it as well.
Castaway Critters, Humane Society of the Harrisburg Area, Speranza Animal Rescue
Capital Area Greenbelt, Love the Hill, TerraCycle Recycling Program
Central PA Friends of Jazz, Dauphin County Vo-Tech, Foose Elementary School, Harrisburg Symphony Orchestra, LOOP Boyz & Girlz, Milton Hershey School, River City Big Band, Susquehanna Art Museum
CATRA, Cocoa Packs, Diakon Youth Services, Graceful Acres, Paxton Ministries, The Middletown Home
K9 Hero Haven, Leukemia & Lyphoma Society, PA Breast Cancer Coalition, The Kidney Foundation
Love Promise Stories from Faulkner Subaru Harrisburg
Subaru and Faulkner Subaru Harrisburg believe in making a positive impact on the communities in which we live and work. We uphold that belief through our Love Promise Community Commitment. Every month, we select inspiring stories from customers and partners from around our area who strive to support our collective commitment and feature them here
A Simple Ask Becomes a Twelve-Year Partnership Focused on Transforming the Lives of our Youth. - Jeramias G
Twelve years ago, I walked into Faulkner Subaru Harrisburg to ask them if they would be interested in helping at-risk youth in our community. I was not sure what to expect for an answer, but I cannot believe the support and partnership that has developed with Faulkner Subaru and Diakon over the past twelve years, it is simply beyond anything we could have ever imagined! Faulkner Subaru has helped us countless times through the years with funding, volunteering and mentoring our students at Diakon Youth Services and at our Wilderness Center in Boiling Springs just outside of Harrisburg, Pennsylvania. At Diakon we transform the lives of at-risk youth through a range of community-based treatment, vocational training, counseling and mentoring services. We offer a wide range of programs designed to help young people become productive, contributing members of society. Faulkner Subaru in Harrisburg has been with us every step of the way providing sponsorships, scholarship opportunities, volunteering, and funding some of our programs. It is obvious that the employees at Faulkner Subaru are a special group of people. Over the last twelve years Faulkner has helped us in many ways including; a mentoring program for students that are interested in becoming a mechanic where they work alongside technicians at the dealership, participating in our career days to show students other opportunities that are available in the automotive industry, and providing gifts for our students at Christmas, just to name a few. In addition to the hands-on help that Faulkner provides, they have also contributed over $150,000 towards our mission of transforming the lives of our at-risk youth which has made a huge impact on the quality of education and services that we are able to provide. COVID-19 presented many new challenges to our organization over the past few years forcing us to adjust our mentoring and learning programs. We knew it was crucial for us to stay in contact with our kids and help them through these difficult times, so we set up virtual learning to stay connected. This new method of communication was challenging for many of our youth to stay engaged in the program. Through it all, Faulkner Subaru never left our side and continued to offer any support possible so that we could help our youth even though I was sure that the car business was affected by the pandemic. Every step of the way, Doug and his team never stopped helping us with our fundraising efforts and they were always there for emotional support. As I think back, I find it amusing that while the staff at Diakon are trained experts at mentoring and providing emotional support for our students, it was Doug Jones, General Manager, and his staff that were helping me and my staff to maintain a positive outlook. The encouraging words and support they gave us both on the phone and in person, really helped us weather the storm! As we started to return to the new "normal" we wanted to do something special for the students for Christmas. During the last twelve years Faulkner Subaru has delivered Christmas gifts for every student that is going through our six-month program and this year was no different. Doug called me at the end of November to let me know that they were buying Christmas gifts for our students again this year. Even after twelve years of support, I'm still amazed that I don't have to contact Faulkner, but they contact me! Most of our students have experienced challenges that no child should ever have to experience, but the love and support that our students receive from Faulkner Subaru makes their lives a little better. Christmas morning every student opened a gift that the Faulkner Subaru staff went out and bought from a list that we gave them for each student with their age and what they would like to have for Christmas. There are thirty-nine students in our program this year and sure enough, thirty-nine presents were delivered to Diakon a few days before Christmas. Over the past twelve years Faulkner Subaru Harrisburg has impacted many lives at Diakon and they do it without hesitation or reward. They truly care about the people in their community, and we are so blessed to have them as our partner.

---
Simple Gestures Make a Big Impact - Megan B
The thing I love most about being a Subaru Ambassador is that the program truly is what you make it. Lucky for me I have Doug Jones and Chris Carvell to bring my ideas to life, no matter how last minute. During a Meet & Greet event with K-9 Hero Haven in November we decided to coordinate a Christmas event for December, and we knew just the thing to do, pet photos with Santa. All of the proceeds from the event were donated to K-9 Hero Haven and the event was a success. However, when you're surrounded by people like Doug Jones and Chris Carvell, you always feel inspired to take things a step further. While I was a student at Central Penn College, I was elected to be the President of the Gamma Beta Phi National Honor Society – Central Penn Chapter and our mission and passion for helping the local community mirrors that of Faulkner Subaru Harrisburg. During an induction ceremony for the Honor Society, we decided to sell t-shirts and other Gamma Beta Phi merchandise for a donation amount to a local charity and I knew the perfect charity to choose, K-9 Hero Haven. As soon as we told attendees where the proceeds from the sales were going, people started throwing money at us and I walked away with $165.00 to give to K-9 Hero Haven. I presented K-9 Hero Haven with the money during the pet photos with Santa event. It's being a Subaru Ambassador, and more specifically working with Faulkner Subaru Harrisburg, that taught me even the simplest and kind gesture can create a big impact.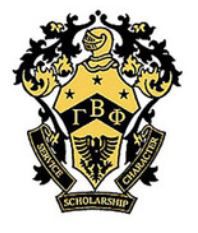 ---
Pet Photos with Santa Claus Supports K9 Hero Haven - Stacey M
Thank you for hosting the K9 Hero Haven Santa Paws event! The Saturday, December 17th, 2022 event was a huge success. We especially want to thank you for the generous gift of $1,000.00 presented by Faulkner Subaru, as well as the use of your service area to hold the event. Thank you for your assistance in coordinating a Santa Claus, photographer, DJ, and dog treats for us to sell. We additionally want to take a moment to acknowledge the efforts and hours of personal time donated by the many Subaru Goodwill Ambassadors that assisted in the organization, decoration, set up, and administration of this event. Your and their assistance enabled us to raise a total of nearly two thousand dollars! We cannot begin to thank Faulkner Subaru, and everyone who helped, enough for your support! As you know, 2022 has been a difficult year for K9 Hero Haven with significantly higher medical expenses. The contributions made by Faulkner Subaru will greatly help to defray those expenses and provide care to our K9 Heroes. The mission of K9 Hero Haven is to rescue, rehabilitate, and provide working dogs a home for retirement. We take in many dogs from U.S. government agencies (Department of Defense, Customs and Border Patrol, and Department of Agriculture) as well as many law enforcement agencies at the state and local levels. Most of our dogs are retired from either U.S. military service or from civilian contractor agencies performing security work in support of U.S. military forces abroad. We have a large population of these dogs at any given time and their needs are substantial. Your generosity will help to provide comfort and care to our four-legged heroes. We're beginning construction of a new facility to increase our space and provide better comfort for our dogs. The kennel will be heated and air conditioned as well as having a source of running water for drinking. This will greatly improve the comfort of our retired heroes. This would not be possible were it not for the generosity and support of others. We can't thank you enough! Thank you again for your generous donation to, and support of, K9 Hero Haven!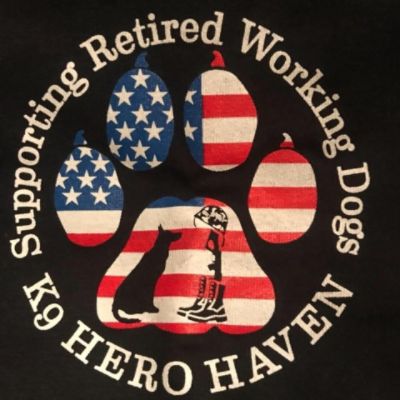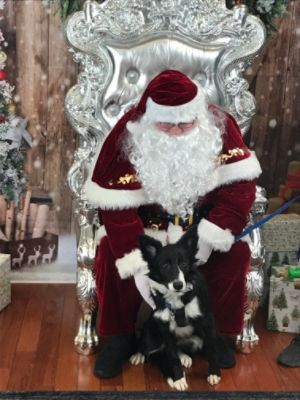 ---
K9 Hero Haven Santa Paws - Stacey M
When K9 Hero Haven wanted to offer pet pictures with Santa last December, Chris Carvell jumped into action and came to our rescue. Thanks to Chris we had such a great day and a lot of happy dogs and even a cat. We had pictures with Santa, a photographer, music, cookies and hot chocolate. We can not say "Thank You" enough for all you do. The Subaru ambassadors were so much help and made the day so much fun. Everyone from Faulkner Subaru had a part in making this day special. What a very generous group, always willing to support others.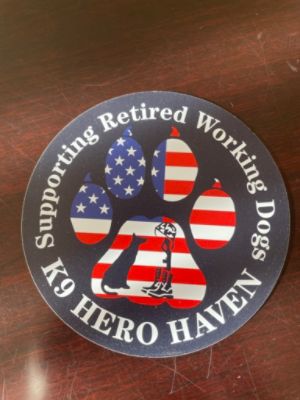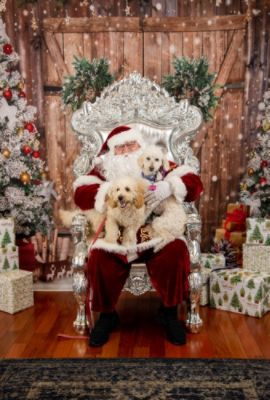 ---
A Retired K9 Hero Saves a Retired Combat Veteran - Jason A
As a Combat Veteran you return to the regular world with wounds and injuries that no one will ever see. You feel lost and hopeless and at times it seems as if the only people that understand are other Combat Vets. Then at some point you find your relief, whether it be in support groups, counseling, confiding in a loved one or in my case, another Combat Vet. This story is a little different because this Vet has four legs and spent more time in war torn cities than some other vets I know and saved countless lives. When his time came to retire, he was placed with K9 Hero Haven and in the care of an angel still in her human form, Anne. The Vet I am talking about is named Smoley and he had spent four years in Iraq as an explosive detection dog. With recent current events, I was feeling lost and like the world was starting to close back in on me. I called Anne and asked if she had a dog that needed a home and she immediately said yes. She set up a day so I could meet him and we instantly had a connection. That feeling when you and your battle buddy see each other again, no words are needed. Some will never now the feeling I'm talking about, but it is special. Smoley came home with me that day. What I was not expecting, was how he would change my life completely. Most people take the simple little things in life for granted. For instance, going into large crowds, fireworks celebrating a special occasion or that piece of litter on the side of the road. For us Combat Vets those things can be debilitating. With Smoley by my side I'm able to cope and manage these things again. I still get the anxiety and sweats, but Smoley knows just what to do. He will move up next to me and give me that reassuring look as if to say I have your six. He allows me to enjoy things such as fairs, carnivals and even grocery shopping. At night, he will wake me when I begin to have the nightmares that send me into dark spaces. Since I brought him home, I have been able to sleep at night, not afraid of where closing my eyes might take me back to. I feel I do the same for him when he whimpers and yelps at night or hears the monsters in the sky, I have his six. That day I didn't rescue a dog. I found a battle buddy. The bond we have is as strong as the bond I had with my fellow soldiers. He has my six and I have his. He helped me find myself and by doing that he not only saved me but my family as well. I often wonder did I rescue him or did he rescue me. He is my four-legged battle buddy until the end. This story would never have happened if it wasn't for Anne and K9 Hero Haven. The human Veterans have friends and family to return to when their service comes to an end. Most of the K9s are retired without a second thought of what they will do next. They are retired with mental and physical problems just like their human counterparts, except there is no VA or any other benefits to help them transition. This is where K9 Hero Haven comes in and provides these dogs with a home, medical care, and rehabilitation. The main goal is to prepare these four-legged heroes to be adopted into their forever home. All this comes with a cost. K9 Hero Haven has taken in and rescued over 500 dogs to date. Over three hundred have been adopted and 17 handlers reunited with their K9 partner. Then there are the dogs whose forever home will be K9 Hero Haven. These dogs live in the retirement home and all of their needs are met by Anne and her amazing team of volunteers. As the last two wars have come to an end, Anne continues to take in MWDs, and CWDS never saying no. Her dedication and selfless service to these dogs has spread across the country and now Police Departments, Correctional Facilities and Custom and Border Patrol agencies across the US reach out to her and see is she can take in their retiring heroes. She has NEVER said no. Since 2018, Faulkner Subaru in Harrisburg has recognized the outstanding work done by K9 Hero haven and has stepped into to help with over $50,000 dollars in donations to date. This money is used to offset some of the medical cost of our four-legged warriors, transportation, whether it is picking a dog up to bring to the retirement home or taking a dog to its forever home. Most importantly these donations are being used to help build a state-of-the-art facility so Anne and K9 Hero Haven can continue to offer their services to our nation's K9 heroes. This past weekend I had the opportunity to attend the Subaru Share the Love kickoff event at Faulkner Subaru Harrisburg with my wife and newfound battle buddy CWD Smoley. You can see how passionate the entire staff is about Veterans of all kinds. Their generosity goes well beyond any type of monetary value. They take the Share the Love meaning to the next level. The staff took the time to get to know me and Smoley and hear our personal stories. They loved to hear how K9 Hero Haven was able to bring us together and what Smoley and I can do for each other.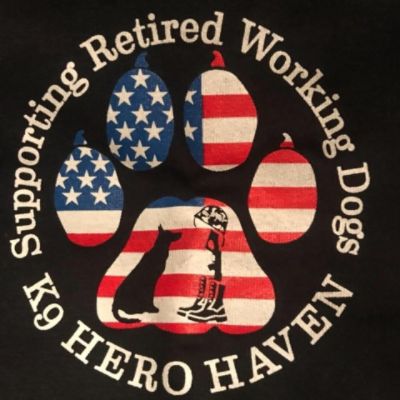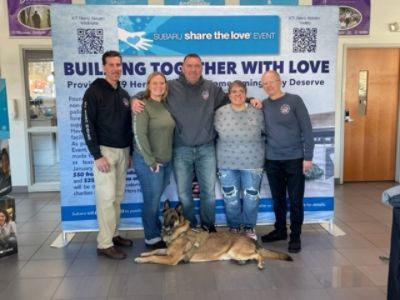 ---
Faulkner Subaru Drives Out Breast Cancer with the PA Breast Cancer Coalition - Daniele Y
Giving is not just about making a donation. It's about making a difference. The PA Breast Cancer Coalition (PBCC) is honored to partner with Faulkner Subaru on programs such as Drive Out Breast Cancer, and our Annual Conference, events that make a difference in the lives of Pennsylvania breast cancer survivors and their families. As a nonprofit serving the entire state, we cannot thank Faulkner Subaru enough for their incredible contribution to our mission! The PBCC could not exist without the unbelievable support of community and corporate Grassroots Partners. Thanks to partners like Faulkner Subaru, we are able to provide programs, services and one-on- one patient advocacy to women facing breast cancer every day. One of the ways in which we reach out to survivors is through a program called Friends Like Me, which offers free care packages to survivors within the first 6 months of their diagnosis. Each package is customized with educational resources, small gifts, head wraps, cosmetics, books and a personal message from the volunteer who prepared it. This year alone, our Grassroots Partners helped to send more than 1,500 care packages to Pennsylvania women diagnosed with breast cancer. Our Grassroots Partners like Faulkner Subaru also make it possible for the PBCC to award research grants to outstanding scientists in Pennsylvania working to find the cause of and cure for breast cancer. In 2022, the Coalition awarded $150,000 in research grants to men and women working to find a cure for breast cancer who desperately need funding to move their innovative ideas forward. The PA Breast Cancer Coalition offers full-time patient advocacy; a resource thousands of women have used in our state. Our Patient Advocacy Director works with survivors to find exactly what they need from mammograms to wigs to free treatment for breast cancer. The PBCC feels that patients should be able to focus on healing while we help to take care of the rest. Our goal is to seek the best possible outcome for families battling breast cancer by equipping them with resources, information and support. All of this is possible due to the phenomenal support of Faulkner Subaru. Your generosity and dedication are invaluable. Thank you for sharing our united goal of finding a cure for breast cancer now… so our daughters don't have to.

---
The Courtyard of Honor Never Forgets - Randy M
It's been 21 years since one of the worse days in American history, September 11th 2001, on that terrible day the town of Hershey Pa. lost one of their own, Michael Horrocks. Mike was a 1981 graduate of Hershey High School and a 1985 graduate of West Chester University, after he graduated college he joined the United States Marine Corp for 10 years, Mike was a pilot in the Marine Corp, he was an excellent pilot and became a Flight Instructor and trained new pilots as they joined the Marine Corp. After Mike's 10 years in the Marines he became a Commercial Airline Pilot for United Airlines and on September 11th 2001 he was the Co-Pilot on United Airlines Flight 175, which was the 2nd plane that was hijacked and flown into the South Tower of the World Trade Center. Mike lost his life at the age of 38 years old, left behind was Mike's wife, his daughter age 9 and his son age 6. Ever since the Michael Horrocks Memorial was dedicated at the Hershey High School in 2010 many of us who graduated and went to school with Mike thought it would be a great idea if we could somehow have an additional Memorial to honor Mike in the town of Hershey, although the Hershey High School Memorial is a beautiful and peaceful site where students and teachers of the school can visit and honor Mike, we really wanted to have a place where everyone could visit anytime and all the townspeople and the many tourist that come to Hershey throughout the year could visit a Memorial to honor Mike. After many inquires to the township board we got great news from Derry Township in Hershey, they offered us property on the square of Hershey, about a half acre, to put a 911 Michael Horrocks Memorial, shortly after we got the great news from the Township we formed a committee of Hershey alumni, most of which were classmates of Mike, the name of the committee is the "Courtyard of Honor" which also will be the name of the 911 Memorial site, the township gave us the land, but it's our responsibility to raise the funds to build the Memorial so the committee is planning many different fundraising events which brings me to Faulkner Subaru of Harrisburg, we contacted many businesses in our area to let them know what our mission is and to see if they would help support our efforts in the construction of the memorial. When we contacted Faulkner Subaru and talked to Doug Jones, General Manager, we were amazed with the reception we got and the interest in our mission of the Courtyard of Honor, after talking to Doug for almost an hour at the dealership he said he would love to come to one of our Executive Committee board meeting to learn more about our newly formed non-profit organization, Doug came to our next scheduled meeting and he got to meet all of our board members and hear about our mission and goals, Doug asked many questions and was really engaged with our committee members. In October the Courtyard of Honor organized 3 different events, one of which was a motorcycle benefit ride to raise funds for the new 911 Memorial in downtown Hershey, we invited Faulkner Subaru to come to the event which was beginning at the Hershey High School, when Doug found out what we were doing he offered to help with the organization of the ride and help with the set up the day of the event, I think he knew because we were a newly formed non-profit and we were fairly new at organizing events we may need some help and advice, not only was Faulkner Subaru willing to help us with our mission in the building of the memorial, but they wanted to help us with putting together our October events. On October 15th 2022 was the day of our 1st annual Michael Horrocks benefit Motorcycle ride which started at 8am and I arrived at the school at 7am to start setting up and I couldn't believe what I saw when I pulled into the parking lot of the Hershey High School, the Faulkner Subaru team, 8 employees were already on site putting up tables, hanging signs, setting up our display items and they had a new Subaru Ascent on display with Love Promise logos all over it, if that wasn't enough just before the ride was about to depart Doug got everyone together at the event and thanked all the riders for their participation and wish them a safe ride and then Doug pulled something out of his pocket and gave the Courtyard of Honor a $10,000 Check to support the construction of the new memorial, a beautiful 911 Michael Horrocks Memorial in the square of Hershey, at this point I don't even know what to say, the Faulkner employees were truly amazing that day, they came early, helped us tremendously to make our event a success and they had many great ideas for the set up at our event and to top it all off we were presented with a $10,000 check, the last thing Doug said to me that day was "we will always be here for you, stay in touch with me" saying thank you doesn't seem enough, but THANK YOU Faulkner Subaru for being more than just a business.
---
Yukio: From Heartworms to Healing Hearts - Amanda B
Each October, Subaru celebrates National Make a Dog's Day in October (this year, it's October 22nd). This year, we are highlighting the journey of Yukio whose Christmas Day was "made" when he was brought in to the shelter and ultimately received much needed medical care and most importantly, a home. Yukio was found as a stray by local police and brought to the Humane Society of Harrisburg Area (HSHA) on Christmas Day, 2021. Upon examination, it was discovered that the pit bull mix with the beautiful blue eyes was heartworm positive. Heartworm disease in dogs is very serious. It can cause damage to the heart, lungs and arteries and can even result in death. It's also expensive to treat, costing $1,500 in medication and care. In addition, heartworm requires treatment outside of the shelter setting in a foster home where a dog can have activity restriction in a low stress environment; otherwise, the parasite may enter the blood stream during treatment, and be fatal to the dog. However, HSHA was up for the financial and medical challenge. And, after months of searching, the perfect foster home was secured for Yukio. A mother/daughter named duo Desiree and Natalia had recently lost their two dogs within eight months of each other. As they continued grieving their loss, they saw a Facebook post about Yukio. Something told them by helping heal his heart, it would also help theirs. At first, Yukio was shy, cautious, and stayed to himself. He wasn't sure if he was allowed on furniture. He would whisper bark then look at his foster mom to see if it was okay. With time, he began to grow more confident in himself, all while receiving the heartworm treatment he desperately needed. HSHA was there every step of the way. Providing food, guidance, and medical care. However, Yukio's journey also needed a lot of patience. His medication was on backorder, delaying the start of treatment. He developed stomach issues, making it challenging to provide food enrichment activities to help keep him calm during treatment. Despite these setbacks, Yukio's treatment was a success, and is officially cleared of heartworm! Yukio (renamed Bean) was made an official member of Desiree and Natalia's family on Saturday, October 15th. The dog who was afraid to jump on the furniture, now requires a blanket and pillow to sleep. "He thinks he's tiny and loves to be carried around like a baby," said Desiree. "Which could be our fault as we tell him daily 'he's just a baby.' He is a beautiful boy with a loving and goofy spirit. He is exactly what we needed to heal from the loss of our boys. His huge personality and his love for people just amazes us. We love him so much." #NMADD22

---
Fairytales Really do Come True at Foose Elementary - Kayla M
Once upon a time, I showed up to work on an ordinary Tuesday (in 2018) at Foose Elementary School. The children were rushing into the building, full of glee and excitement for another day. I was distributing "good mornings" and high-fives when some gentlemen approached the building with boxes of books. What an unexpected surprise and how delighted we were to receive these brand new, science-based picture books. And there were hundreds! Little did I know that this would be the beginning of our relationship between Foose Elementary and our neighborhood car dealer, Faulkner Subaru Harrisburg. As the years progressed, Faulkner Subaru has become more and more involved with ways that they can serve our student population. Through a creative campaign, in 2019 #CruiseforFoose was born---a time when local Subi-lovers can donate goods to our school through an event where they meet and drive together to Boxerfest. Our local Subaru Ambassadors do all of the planning for #CruiseforFoose and they have also been so active in visiting our school, saying 'hi' to kids and focusing on the things that we need. Last year we had a massive donation of school supplies. This year, more specifically we requested personal hygiene products—deodorant, toothpaste and underwear. No matter what school you ask, they will always have a budget for school supplies, but no schools will have a budget for hygiene products. Can kids really learn when they are self-conscious about how they smell? Or if they wet their pants and have nothing to wear underneath? These are the everyday struggles of elementary teachers and there is no money to help off-set the things that get in the way of kids learning. Thanks to Faulkner Subaru and #CruiseforFoose we already have our first 90 hygiene kits assembled to hand out to kids and we have plenty of supplies to use throughout the year! In addition to those products, and adopting 33 classrooms, Faulkner Subaru also helped us in the collection of more books. COVID-19 was an eye-opening time for teachers when we realized that a large number of our students do not have books in their home. To instruct a kid to 'go read a book for 10 minutes' was out of the question because so many kids did not have a book to read. We have been focusing on getting books in their hands and through the #CruiseforFoose campaign, we now have a ready supply of books to distribute to kids. It's insane and humbling because with the state of how things are, it is easy to fall into despair, to just want to give up and believe that no one cares. But Faulkner Subaru Harrisburg is there. We keep having to pinch ourselves, no this isn't a mirage, they really are here and they're not going anywhere. Fairytales really do come true and it's freaking amazing!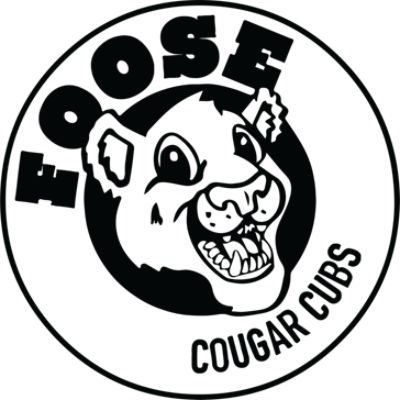 ---
Nightmare Turned Dream - Faulkner and Spangler Subaru save the Day - Lindsay F
For the past few years, I have been a loyal customer to Faulkner Subaru Harrisburg and a partner with them as a Subaru Ambassador. In those years I have developed friendships with many of the people there. Recently, I moved out of the area and landed temporarily in Southwestern PA. Last Friday evening I had a flat tire in my Crosstrek while in Bedford – all shops and the local dealer were closed. I knew the damage was unrepairable, so I got the spare on and dropped it with detailed information at the local dealership as my tires were purchased through Subaru and still under warranty. On Monday afternoon, I finally got a call from the service person who spent a few hours trying unsuccessfully to get the warranty approval, so he was calling to ask me to figure it out. I quickly called the best person I know, my main contact, and friend, Chris Carvell at Faulkner to explain the situation. He worked tirelessly along with others in service and parts at Faulkner, and others in regional roles to figure out the issue and get the problem solved, and kept checking in with me along the way to keep me calm (my car is my baby.) After Tuesday passed with no resolution from the dealership that had my car and a complete breakdown in communication, we made the decision to limp my Trek over to Spangler Subaru in Johnstown on the donut (about 30 miles away). Chris again went above and beyond and called the family that owns and runs Spangler to explain my situation. All I had to say when I arrived was "I'm the person with the Crosstrek with a flat tire" and I was immediately taken care of – service had my car in and looked at before I could even sit down, a (very nice brand new khaki Crosstrek) loaner was already set aside before I arrived, and everyone assured me that it was not going to be an issue at all. Professionals through and through, with smiles and kindness and everything I had been used to at Faulkner, I felt at ease immediately. By Thursday, my tire had been replaced under warranty, sensors were reset, and my beloved Trek was home. I cannot express enough how appreciative I am that Faulkner and Spangler worked together to ensure that I was taken care of so quickly. My heartfelt thanks to Chris Carvell, Garrett and Forrie Spangler, Jasmine, service and parts at Faulkner and Spangler (especially Anne who felt like someone I had known forever right away), and all others who I didn't get to talk to that were involved in this situation. I spent many years distrusting dealerships, and there are definitely bad ones out there (whether Subaru or not), but Spangler and Faulkner have restored the faith that there are dealerships out there that care, and really want to do right by their people. Talk about living the #SubaruLovePromise and being #morethanacarcompany !!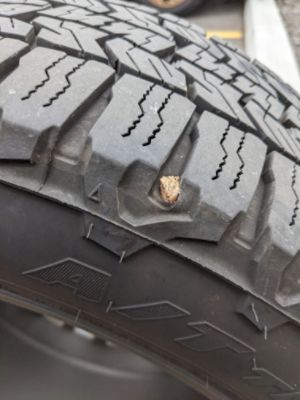 ---